Search
Refrigerated counters JUKA: WHEN THE COLD WORKS FOR THE CONSUMER
Про компанію. Довіряймо перевіреним!
JUKA-Invest TM JUKA is a modern European enterprise that has proved to be the reliable manufacturer of commercial freezing and cooling equipment. A wide assortment, flexible marketing policy, reliable time-tested quality and positive customer reviews – all these indicators have brought the company to a new level and made it a worthy player in the refrigeration equipment market. In the company, the client's request is very carefully worked out: first, they study the needs and wishes, and only then select the best solution for refrigeration equipment for each specific case.
Thanks to such an integrated approach, among the customers of JUKA-Invest are the leading manufacturers of ice cream, frozen semi-finished products, dairy and meat products, drinks, confectionery, many shops and sales areas of regional and national retail.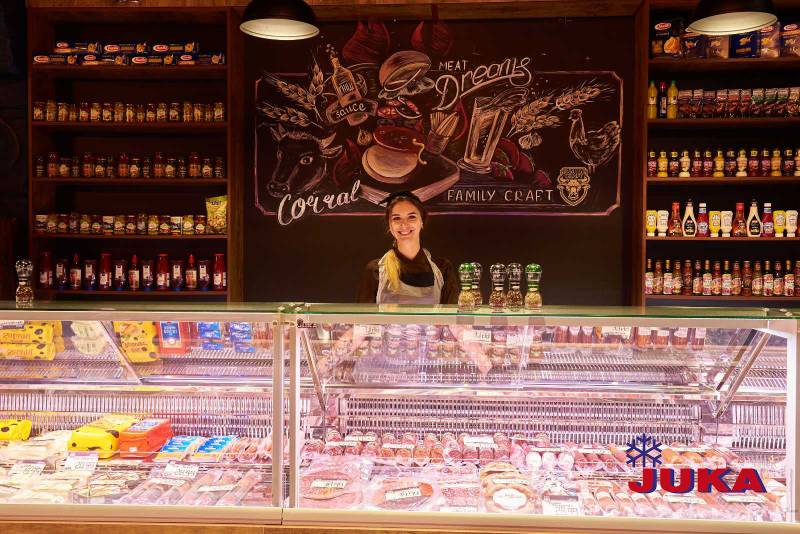 When you choose JUKA TM refrigeration equipment – you choose European quality, which is a guarantee of safety and reliable storage of your products; and modern design, which attracts the attention of buyers – stimulates sales.
Between heat and cold – a gastronomic showcase.
Whatever the perfectly prepared and presentable food product is, when stored at the point of sale you need to ensure proper storage. First of all it is a question of temperature modes of commercialization of a product and its demonstration to the client both in big shopping centers, and small points of sale.
In retail, this issue is approached responsibly and take into account a lot of nuances. So, let's understand: what is a gastronomic (refrigerating) showcase, what types and what are the key characteristics to choose it in a particular case.
So, the first thing to remember is that the refrigerated display case performs two important functions – it provides the right storage conditions for food and shows the product to the buyer in the "right light". Therefore, at the stage of purchase, it is very important to work and trust professionals. Juka-Invest has been a leading manufacturer since 2006 and offers a wide range of refrigerated display cases with various configurations, designs and technical parameters.
Which showcase to choose? Expert advice.
Before choosing a showcase, you first need to determine the optimal location in the trading hall. First of all, you should take into account the size of the room or trading hall, as well as the specifics of the point of sale. Note that JUKA gastronomic showcases are designed so that, if desired, they can be used as free-standing (small size of 1.3 m in length) for a locally represented product category and mounted in one continuous refrigeration line for the entire gastronomic range of the outlet.
Importantly:
when choosing showcases it is necessary to take into account the weight and quantity of goods, which it will be filled;
you need to focus on a competent and representative display of goods (size, colour, group of goods).
потрібно зосередитись на грамотній та представницькій викладці товарів (розмір, колористика, група товарів).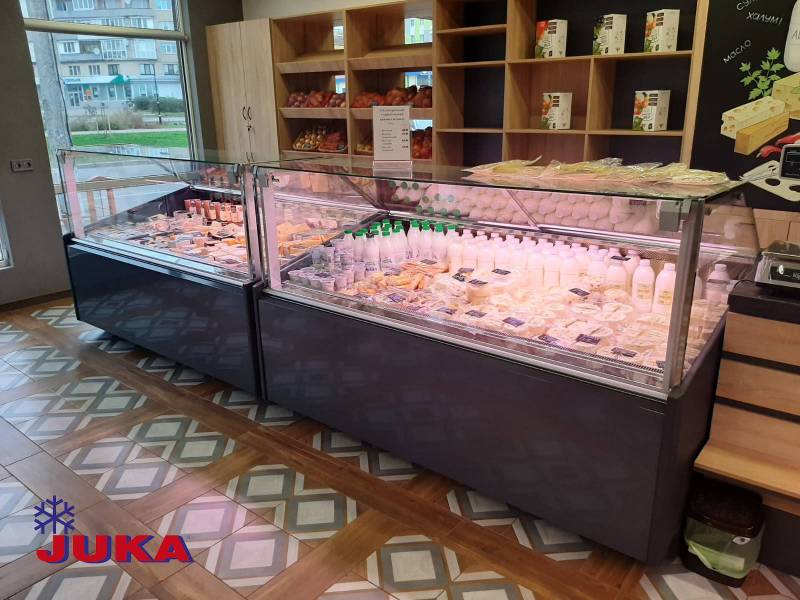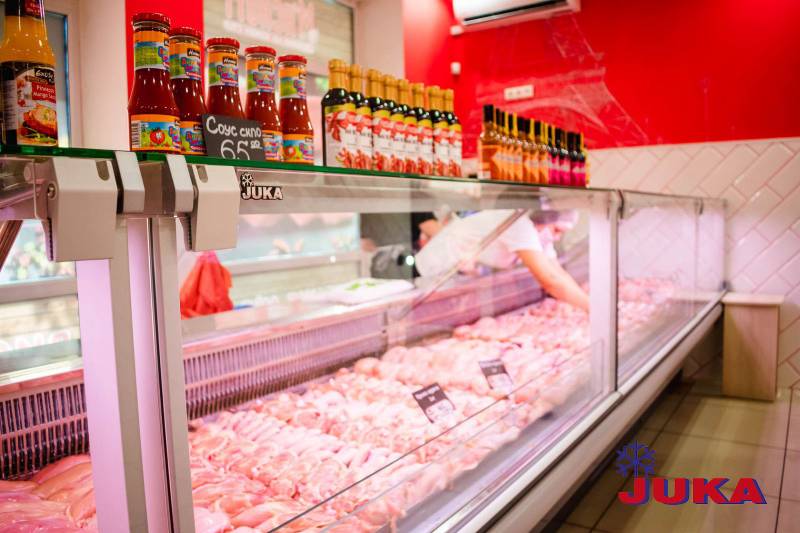 Pay attention to such a detail as the design and lighting of the display area of the counters and showcases. According to Juka-Invest marketers, the visual design significantly affects the design of the entire retail space. In addition, it can significantly increase sales, enhancing the attractiveness of the product, solving the problems of merchandising and commodity neighborhood. All refrigerated display cases are equipped with LED energy-saving LED lamps. They highlight the products in the best possible way, especially for the presentation of cheeses, meat products, dairy products, desserts, etc.
Refrigerated display cases with an average operating temperature from 0 to +8 C are in the greatest demand, and the type of product that will be stored there. This refrigeration equipment is perfect for the presentation and temporary storage of various products. They are well suited for sausages, fish products, desserts, dairy products and cheeses, unfrozen goods and more. For storage of products at sub-zero temperatures it is better to choose chest freezers or bonnets with a glass cover for high-quality demonstration of goods to the buyer.
With regard to technical equipment, it is necessary to pay attention to the main elements from which the equipment is made of. Namely: the refrigeration part, the compressor and the materials used for exterior and interior decoration. Such installations must be reliable, fairly easy to maintain, and meet all hygienic and sanitary-epidemiological standards. Therefore, as a result of the above, for the professional equipment of your business, we recommend contacting refrigeration specialists.
Juka-Invest provides professional advice and assistance in selection, delivery and installation, warranty and service. These specialists know all the features and will help you choose the model, advise the color and branding option that will be optimal for your business and will guarantee its reliability and profitability.
Origin: Refrigerated counters JUKA: WHEN THE COLD WORKS FOR THE CONSUMER
All news